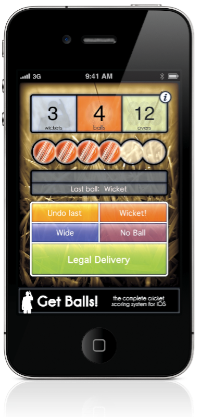 Mini Balls! is the lite version of our extremely popular cricket app Balls!

Mini Balls! does the job of your old umpires clicker, but it's more fun, classier, and it's free!!

This app is a tool for cricket umpires and is designed to remove the mundane from the job. Hate hunting through the car park for stones? Twigs? Bottle caps? Mini Balls! takes care of the mental arithmetic, because we know you have better things to do than count up to six over after over!

Mini Balls! offers lots of great features such as shake-to-advance, which allows you to keep your eyes on the job. The players will thank you - and us! Also included is the special glance-o-meter for a quick visual ques, audio alerts and vibration alerts that let you know when to call the end of each over.

Mini Balls! also remembers where you were when you quit the app, and resumes the session on restart.

Mini Balls! is continually expanding and improving. A new version for Tamil speakers in India has been released and is a huge hit!



Chris from Australia kindly wrote in to describe an experience he had using Mini Balls! If you've have had a similar experience I'd love to hear about it. Here's Chris' letter.

I thank you for providing such a great app. While umpiring a junior game on Friday night I was using the app. When finishing the innings we all returned to the clubhouse when I was informed by at least 15 different people that the score book said we still had 1 more over to play. I showed them my mini balls app and explained how it works. The score books were checked and found to be incorrect and an apology was given. As I said "I love my mini balls app".

Thanks again,


Chris