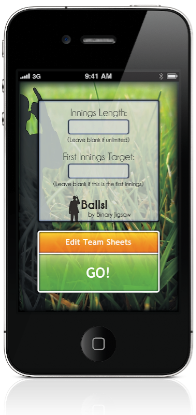 Balls! is a tool for cricket umpires and is designed to remove the mundane from the job. Hate hunting through the car park for stones? Twigs? Bottle caps? Balls! takes care of the mental arithmetic, because we know you have better things to do than count up to six over after over.

Balls! is a score keeper designed specifically for cricket fans. It keeps track of the stats so you don't have to!

A slick user interface has been crafted to bring a bit of fun to the umpiring role. Balls! is full of extras that your old clicker never had, and is much much easier than plugging the scores into a book - not to mention more fun!

Action replays, full batting and bowling statistics and the ability to email innings statistics are just a few of the features that makes Balls! the best cricketing app available by miles!


For V2.0, Balls! has been completely redesigned from the ground up. Balls! is now a complete score keeping solution - and it's easy enough to use while umpiring. All you need to do is enter the delivery details and Balls! keeps the score and tracks the statistics of the batting and fielding teams!

An eagerly awaited addition has been the action replay function. The user has the option of recording every ball using iPhone's built-in camera and using the recordings to review umpiring decisions - all from the best seat in the house - right at the wicket! You have the option of saving each clip so players can enjoy their highlights and batsmen can learn from watching the ways they have been going out.

At the end of the innings you can email the innings stats to the entire team with the push of a button. Video clips are sent also - a particular favourite of many of the teams we receive feedback from!

If you're using Balls!, I'd love to see how it's going for you. How about adding
letstalk@binaryjigsaw.com
to your email list next time you email out a game summary!