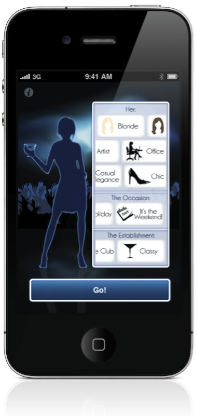 Hitting the town tonight?

For this project we have put the full might of the Binary Jigsaw extended family at your disposal - from barflys to bar managers, pretty girls to "lucky" lads. These fine folk put the "guru" in Drinks Guru, and Drinks Guru puts all their years of expertise at your fingertips. Don't say we're not looking out for you!

Met a pretty girl and want to buy her a drink, but not sure what? If your wingman has deserted you, or if you question his taste, consider Drinks Guru your expert second opinion. Before long you'll be turning to your team of experts every time.

Just answer a few simple questions about the girl, the occasion and the establishment and Drinks Guru will suggest just the right drink to buy her. There are few cast-iron guarantees in life, but this is one - success guaranteed!

Don't worry; the buttons are large so even if you're a little under the weather you'll still be able to operate like a pro. Just remember to use your new-found powers for good and not evil!