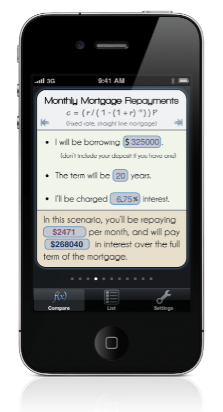 Four Walls is the tool you've been waiting for to help you sort and compare properties you are considering for purchase!


It's much more than a kick-ass organiser though - Four Walls is loaded with information to help anyone assess some of the more technical financial considerations when buying property.


The app interface is designed to offer a natural flow through the
information harvest process. Four Walls guides you without constraining you, so you are free work as you please. The great thing is that however you cram the info in, Four Walls distills it into a coherent, concise output for you to to use.


Four Walls is the perfect companion for your internet based search, or better yet, when you're out pounding the pavement in search of your dream home or investment property. Say you see a great place on the way home from work, just punch in the details to show your partner when you get home!


Stored information is presented in a straightforward, yet detailed form that lets you quickly and easily assess the pros and cons of each property. If you've found the perfect place and are dying to share the news, no problem - you can email vital information to anyone from within Four Walls.

Four Walls offers a mortgage repayment calculator, a capital gain calculator, a term investment calculator (shows you what the same financial contribution will offer you in a very low risk investment) and a capitalisation rate calculator.

All the formulae the powerful calculators in Four Walls use for number crunching are displayed to the user for two reasons. Firstly, to show you there's no dark art going on here, it's a simple and repeatable process that doesn't have to baffle you! Secondly, Four Walls is as an educational tool as much as it is an organiser/helper. Four Walls is ideal for a newbie, but if you're a guru you needn't worry - the educational components are unobtrusive so you can zip through as fast as you like.


What are you waiting for? Get Four Walls and put a roof over your head!!