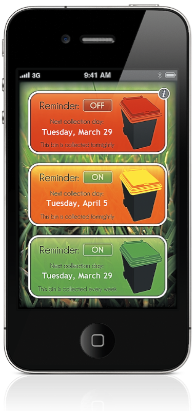 This app is for the forgetful among us who neglect to put out their recycling bins for collection each week. It is also for people with driveways so long that they can't see what bin their neighbours have put out.

Bin Out is specifically designed to remind you of the collection times for the three bins that the Christchurch City Council in New Zealand collect.


- Green (organics): Collected weekly
- Yellow (recycling): Collected fortnightly
- Red (rubbish): Collected fortnightly


So there you have it, Peter McFaulls of the world, get Bin Out and get your bin out!